Follow the link below to unlock all iPhones on any baseband.

How to Unlock the iPhone 4, 3GS, 3G Using UltraSn0w
These are instructions on how to unlock the iPhone 4, iPhone 3GS, and iPhone 3G for use with any GSM cellphone carrier using UltraSn0w. This will work with the iOS 4.0 firmware.
Before you can follow these instructions you must have a jailbroken iPhone and you must be on the 04.26.08, 05.11.07, 05.12.01, 05.13.04, or 01.59 baseband(modem firmware).
To find your firmware and modem firmware(baseband) versions you can Select settings/General/about and look for Moderm Firmware.
If you are on T-Mobile remember to turn off 3G before starting…
Step One
Press to launch Cydia Installer from your SpringBoard.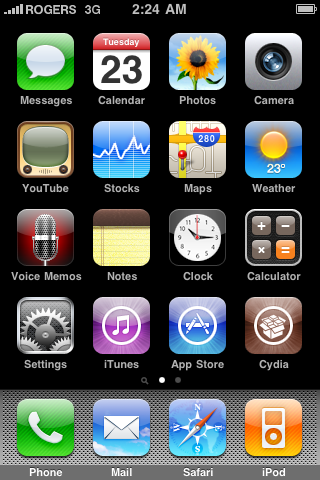 Step Two
Press to select the Manage tab at the bottom of the screen.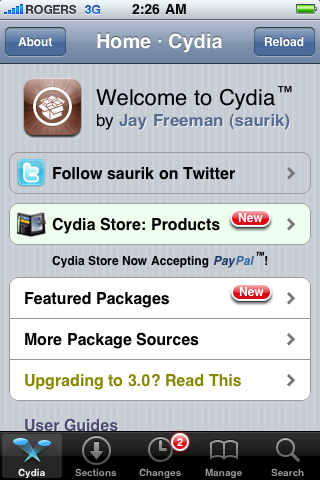 Step Three
Press to select the large Sources button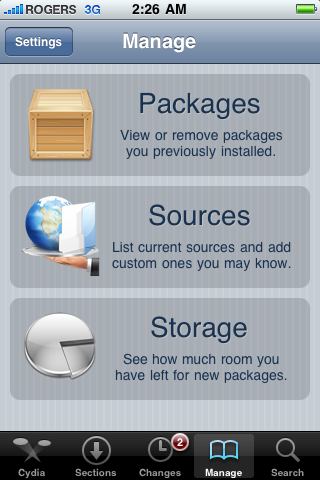 Step Four
If the ultrasn0w repo is not present press the Edit button at the top right of the screen. Otherwise, skip to Step Nine.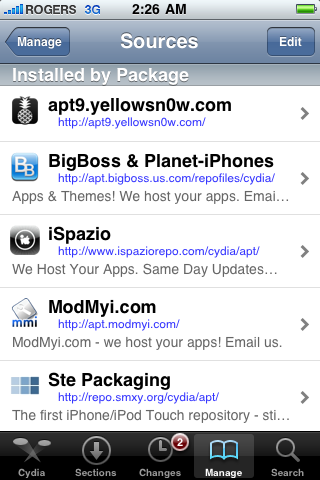 Step Five
Press the Add button at the top left of the screen.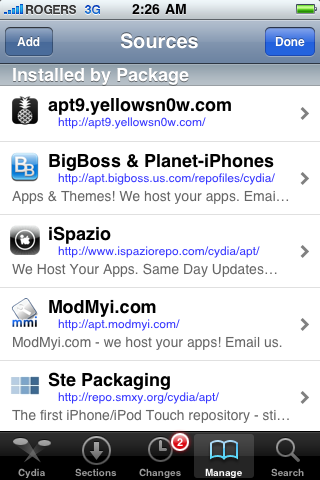 Step Six
Enter http://repo666.ultrasn0w.com/ as the source url and press the Add Source button.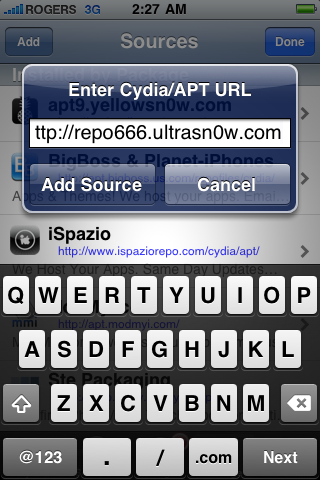 Step Seven
Once the source has been added press the large Return to Cydia button.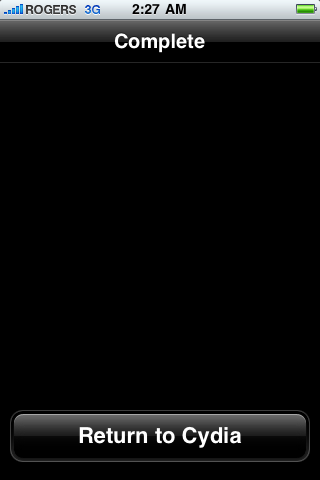 Step Eight
Press the Done button at the top right of the screen.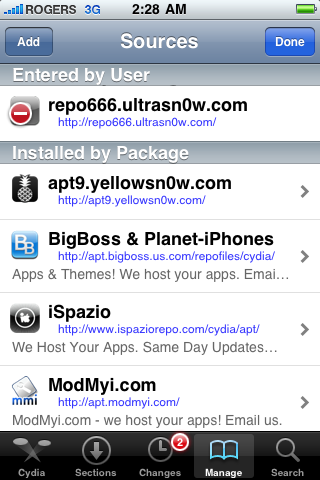 Step Nine
Press to select repo666.ultrasn0w.com from the list of user entered sources.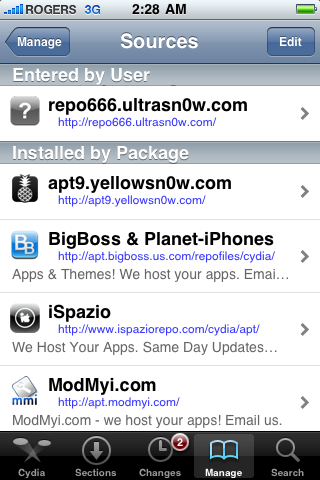 Step Ten
Press to select ultrasn0w from the list of packages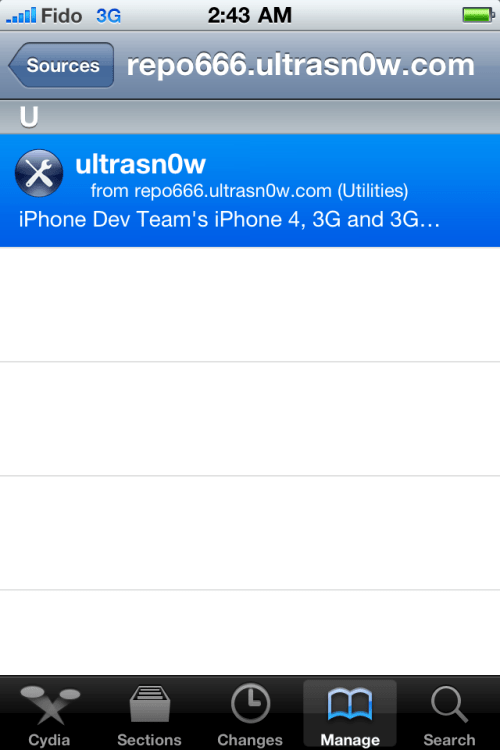 Step Eleven
Press the Install button at the top right of the screen.

Step Twelve
Press the Confirm button at the top right of the screen.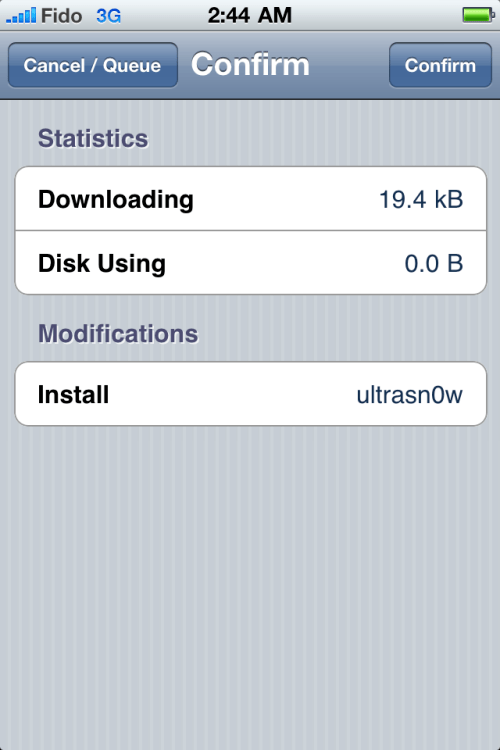 Step Thirteen
After installation completes successfully press the large Return to Cydia button.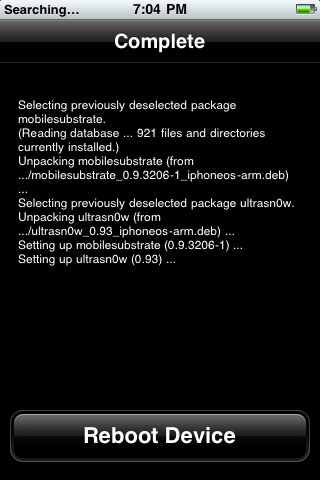 Step Fourteen
Now press the Home button then power off and power on the iPhone. You do this by holding down the power button for 3 seconds then moving the power slider that appears to the right. Press the power button again to turn on the phone.


Step Fifteen
You should now be able to insert the SIM of your choice!
***THANKS: A big thank you to all the members of the iPhone Dev-Team for all their hard work! It is much appreciated by all
_____________________________________________________
Phone Dev Team announced just a few minutes back that they were working hard to release tools to jailbreak and unlock iOS 4 and had warned users who relied on software method to unlock iPhone to avoid upgrading to iOS 4 until they have tested their tools with all relevant devices.
But they have just released the latest version of Ultrasn0w, their software solution to unlock all basebands since iPhone OS 3.0 including baseband 05.13.04 that comes bundled with iOS 4.
iPhone Dev Team announced the following via Twitter:
Ultrasn0w 0.93 released! Cydia repo is repo666.ultrasn0w.com. Works with basebands 04.26.08 thru 05.13.04
So if you have jailbroken your iPhone running iPhone OS 3.1.3 or earlier (upto iPhone OS 3.0) then you should be able to install Ultrasn0w from Cydia to unlock your iPhone.
Here are the steps that you can follow:
Launch Cydia
Please add the repo repo666.ultrasn0w.com to Cydia. That last "o" is actually the number zero "0". If you use the letter "o" you'll get an error.
Then search for 'ultrasn0w' in Cydia and install ultrasn0w.
T-Mobile USA users should disable 3G before using ultrasn0w.
This should successfully unlock your iPhone.
We have already got confirmations from our readers that they've successfully unlocked their iPhone 3G and iPhone 3GS on iPhone OS 3.1.3.
As always, let us know how it goes.
Thanks everyone for the tip!
[via Dev Team]
.
.
Unlock iPhone 3GS iOS 4.0 with UltraSn0w
UltraSn0w Unlock has been released to unlock iPhone 3GS iOS 4.0 with 04.26.08 baseband and old BootRom. Indeed a great news for loyal dev-team followers who used PwnageTool to update firmware but preserved their baseband at 04.26.08.
So, all those with iPhone 3GS baseband 04.26.08 running iOS 4.0 (formerlyiPhone OS 4.0) installed via PwnageTool, can unlock 3GS with UltraSn0w.
IMPORTANT
To unlock 3GS with UltraSn0w, your iPhone must be jailbroken. (Jailbreak Guides linked at the bottom)
Your iPhone 3GS MUST be at 04.26.08 baseband (You can preserve Baseband with PwnageTool during firmware update)
This works for iPhone 3Gs with Old BootRom only.
05.11.07 baseband users can always use BlackSn0w RC2.
05.12.01 baseband users need to wait a couple of weeks more. Unlock is ready. They are waiting for iPhone 4 to hit shelves.
Let's unlock your iPhone 3GS running iOS 4.0 GM firmware with baseband 04.26.08 using UltraSn0w 0.92.1. Please follow the steps mentioned below…
How to Unlock iPhone 3GS iOS 4.0 with UltraSn0w
Open the Cydia.
Go to manage Tab at bottom.
Hit the big Sources button.
Hit the Edit button on Top-Right
Then Hit the Add button on Top-Left
Then Enter the following URL: http://ios4.ultrasn0w.org and hit the Add Source button.
–
Once the Source is added to the Cydia, hit the big return to Cydia button at bottom of the screen and then Done button.
Go to Search tab and search for ultrasn0w and install it.
Installing UltraSn0w 0.92.1 will unlock iPhone 3GS iOS 4.0. Once the installation is completed, reboot your iPhone.
Voila! You have unlocked your 3GS and can use SIM from any carrier now.
.
.
.
.
Blacksn0w RC2: Unlock iPhone 3.1.3 05.11.07 Baseband
BlackSn0w RC2 to unlock iPhone 3.1.3 05.11.07 Baseband is now released in Cydia. Blacksn0w RC2is based on original BlackSn0w and the fix recently released by MSFTGuy to unlock Baseband 05.11.07 on iPhone Os 3.1.3.
BlackSn0w RC2 is not released by GeoHot. The guy behind Push fix 2.0 has repackaged it for you.
IMPORTANT
You must be running iPhone firmware 3.1.3
You iPhone firmware must be 05.11.0
Back up your iPhone via iTunes first
If you could not patch and install the blacksn0w manually, BlackSn0w RC2 has made it very easy for you by appearing in Cydia. Your iPhone 3GS and 3G must be jailbroken first and MUST be on Baseband 05.11.07. You can preserve your baseband at 05.11.07 and update to firmware 3.1.3 using a custom firmware created with Sn0wbreeze or PwnageTool:
In order to unlock iPhone 3GS and 3G on Baseband 05.11.07 running iPhone OS 3.1.3 with BlackSn0w RC2, simply follow the step-by-step guide below..
Disclaimer: This guide is for educational and testing purposes only. Use it at your own risk.
Unlock iPhone 3GS, 3G Baseband 05.11.07 on 3.1.3
Assuming that you've jailbreak your iPhone, now you can unlock iPhone 3.1.3 Baseband 05.11.07 using Blacksn0w RC2.
STEP 1
Run the Cydia from your iPhone Springboard.
STEP 2
Add the following source to Cydia:
http://cydia.pushfix.info
STEP 3
Once you have added the above mentioned source, go to Search tab and search for blacksn0w rc2 and install it.
It will unlock your iPhone 3GS and iPhone 3G.
STEP 4
Reboot your iPhone.. That's it
You have successfully unlocked iPhone 3GS, 3G firmware 3.1.3 on 05.11.07 baseband.
via iphoneheat